Storm Trysail Club's Block Island Race Week
Race Day 1 - Monday June 24, 2013
BLOCK ISLAND, R.I. (June 24, 2013) – Saving for a rainy day is a good idea in sailboat racing just as it is in real life. That's what early leaders were thinking today after opening races at the Storm Trysail Club's 25th Anniversary Block Island Race Week.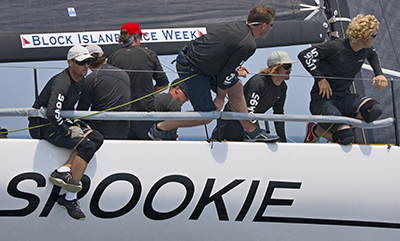 With 182 teams racing in 19 classes (four IRC, five PHRF, seven one design, two cruising, one doublehand) and eight of those contesting major championships, the stakes are high over Race Week's five full days of racing, and early plays for advantages in scoring are undoubtedly wise investments.
In IRC, where the North American Championship is on the line, Steve and Heidi Bejamin's Carkeek 40 Spookie put a 1-2 in the bank today to lead, leaving fourth overall to the other Carkeek 40 in their class, Stephen Murray's (New Orleans, La.) Decision. "It was a good tricky southwest day with flood current changing to ebb, so there were a lot of variables on the race course between race one and two," said Steve Benjamin. "Decision is a sister ship, so inherently we're quite close on boat speed, but there are two others out there: the Naval Academy Sailing Squadron's Corsair (skippered by Andy Beeler, Annapolis, Md.), which rates higher and owes us four and a half minutes on handicap, and Catapult (Marc Glimcher's Ker 40, New York, N.Y.), which rates less and we owe them four minutes. So we have to sail against the clock more than anything."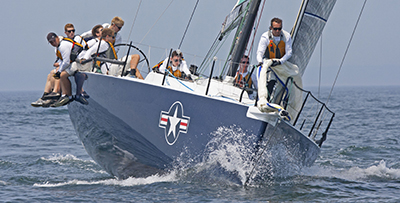 Corsair finished in second overall with a 4-1 today, but Catapult is right there, tied on points, in third position. According to Benjamin, who thinks the latter part of the week looks better weather-wise than originally thought, the early performances are important for "every regatta, but especially this one."
The J/80 one design, the largest class here with 18 entrants, is also holding its North Americans, and Clarke McKinney's (Solomons, Md.) Knee Deep turned in the winning performance (1-2) for the day.
According to Will Crump (Annapolis, Md.), who steered R80 to a third today in that class, the wind, at 6-10 knots, had been forecast to blow at least five knots more. "These boats are good in the low teens, but you can be struggling in the light stuff. The fleet got spread out, and everyone was fighting up and down the course. There are a number of people who are competitive on any given day, and we saw a few of them pop out today." Thomas Bowen's (Charleston, S.C.) Angry Chameleon is in second, tied on points with R80.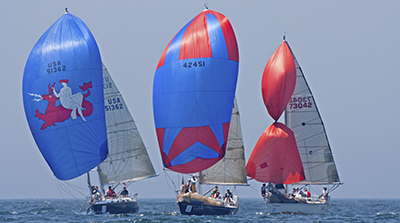 Block Island Race Week is also serving as the New England Championship for Swan 42 one designs, and Andrew and Melissa Fisher's (Greenwich, Conn.) Bandit topped that class with a 1-4 today.
"The first race felt like we couldn't do anything wrong," said Andrew Fisher. "We were in our own breeze, which launched us. It's easier to keep the lead in a fleet of boats that go the same speed. The second race was more interesting; we were more in the mix. Jack (Slattery, tactician) made some good calls, and we had especially good downwind performance. All and all a good day, but just because we're in the lead now doesn't mean much. The winner of our last regatta averaged top-three every race."
Coincidentally, Ken Colburn's (Dover, Mass.) Apparition finished 3-3 today. Peter Stalkus (Newport, R.I.), a four-time America's Cup navigator who is trimming mainsail for the team, said, "yes, if we can average top-three for the rest of the event, we can win it."
CONTACT:
Media Pro Int'l, Barby MacGowan, barby.macgowan@mediapronewport.com, 401-225-0249 (on-site mobile)
Photos by BlockIslandRI.net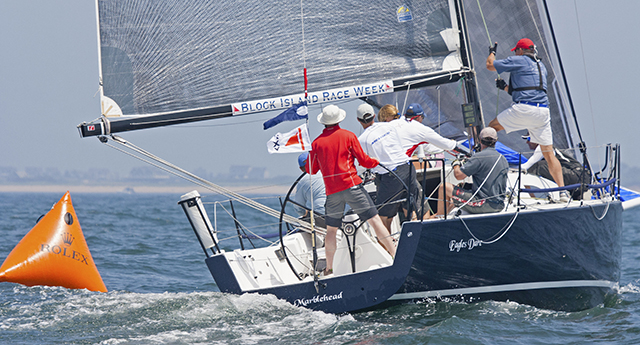 "Eagles Dare" USA11104, J111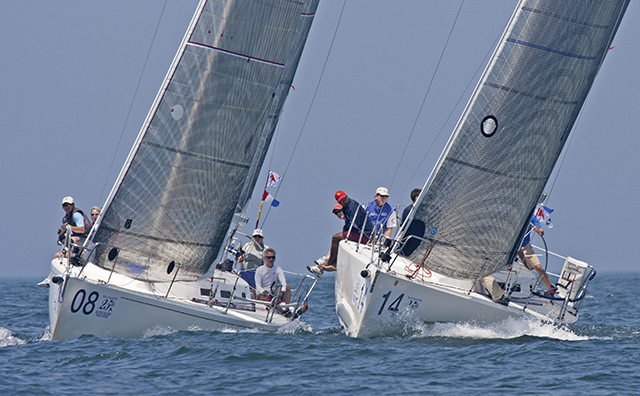 J109's -- "Picante", USA126 and "Strategery", USA273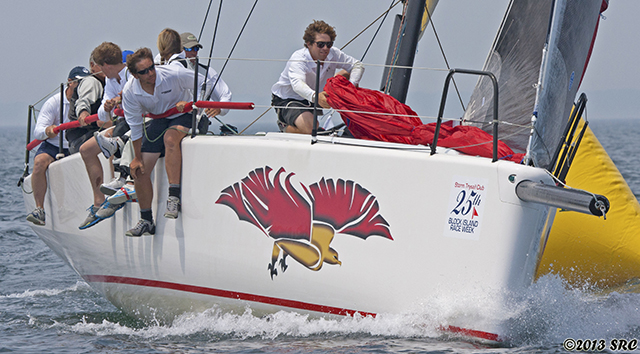 "Grumdoom" FARR400, IRC 1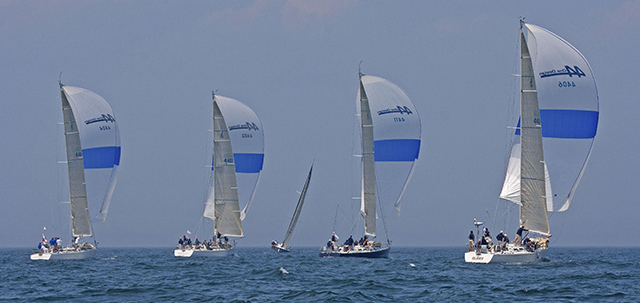 J44's -- Challenge IV, Resolute, Maxine, and Glory (L-R)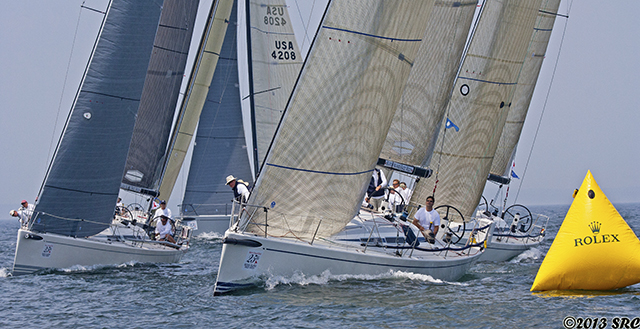 Swan 42's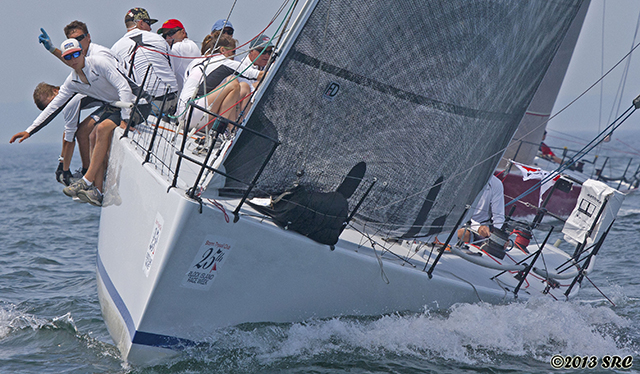 "Settler" Tripp 43, Portsmouth, Rhode Island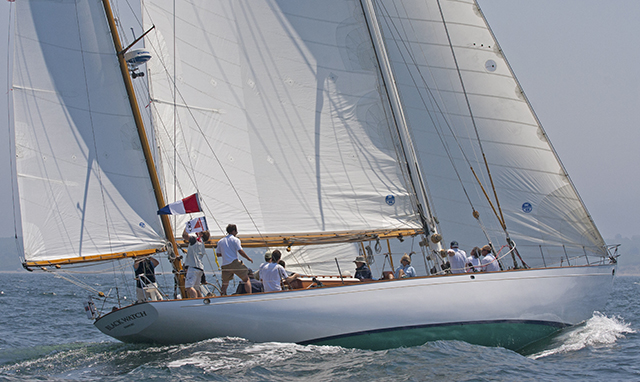 68' Classic Yawl "Black Watch"
Photos By BlockIslandRI.net